Bradley Clayton offers customized putting and pitching surfaces, installed for your home or business.
Residential Golf Green Design
by Don Burleson
In addition to being a PGA Master Teaching Professional, Brad also provides assistance for residential golf practice areas, assisting in all phases of professionally designed tee areas, fairways, pitching areas, and greens.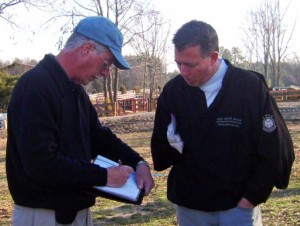 Brad has over 21 years of experience helping golfers, and you cannot go wrong by selecting a seasoned professional to build residential golf driving areas, putting greens, bunkers, or chipping areas.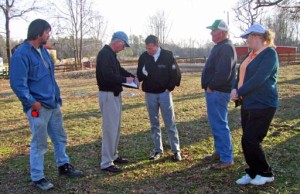 Designing a residential golf practice facility involves the services of many people and coordinating a home golf practice facility required the input from architects, designers, turf experts and landscape artists. Brad provides all of these management services and can make your dream of having your own personal practice area a reality.
Most golfers know what they want in a residential pitch and putt, and when I decided to move forward with my project, I needed someone that I could trust to manage the project, an honest PGA professional with unimpeachable credentials, industry contacts and the savvy to get the residential course done right, on-time and under budget.
I was thrilled with Brad's design work. Brad has no pretenses, and he knows where to find established experts to get the golf holes done right, from initial design to finished green.
For anyone who is considering a residential golf practice area, a pitch and putt, or an entire championship golf course, Brad Clayton is the man to see.
Brad uses the finest artificial turf for his custom home putting greens and ensures that the results are of the same quality as the world's finest. I can personally vouch for Brad Clayton's honesty and personal integrity, critical factors when choosing a custom residential golf design service. Sincerely,
Donald K. Burleson
Residential home golf green construction
Creating a residential home golf area is no small undertaking. Investing money in a home putting or pitching green only to find out that you do not enjoy it because it is of poor quality or not designed to meet your needs can be very disappointing and stressful.
Creating a residential golf green is a big challenge
Building an at-home pitching and putting area is a major investment, and if it is not done correctly, you could have a home golf area that does not meet your needs or standards. It is wise to engage the services of a professional that understands how to customize your residential golf area according to your needs.
Using a PGA professional who takes the time to get to know you and your needs, and has industry contacts to ensure that you get the job done right is a wise way to get started.
Don't underestimate the risks
If you want to be successful in your custom home green project, you will need the dedicated services of an experienced PGA Teaching Professional; someone to identify and coordinate top-shelf green designers, locate inexpensive landscapers, and get your residential green done right, for a fair price. A residential practice area is an all-or-nothing proposition, and it is difficult (if not impossible) to fix a bad design after construction has begun. You must get it right, the first time.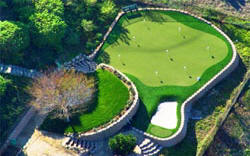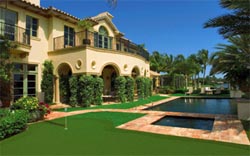 Big or small, you need a qualified professional to sculpt your green
One of the most common complaints about a residence golf area is the time-consuming and confusing task of locating the right people for the job. Managing a custom golf green project yourself is fraught with peril. Even the best do-it-yourself handyman can get lost in the maze of tasks, and you need someone with connections, a network of experts who can get the greens and bunkers installed correctly and at a fair price. Bradley Clayton can help!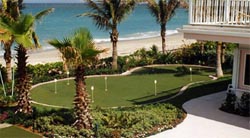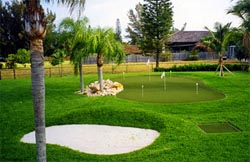 Clayton designs your at-home oasis using the best Turf Advantage surfaces
Today's artificial putting greens can be configured to offer the same look and feel as a championship course, complete with bunkers and chipping areas.
Brad Clayton can manage all areas of home green construction, building bunkers, chipping areas and a putting surface that will last.
We also do baseball, soccer, football, tennis, fields and courts of all kinds: yards, common areas, and playgrounds.  Call Brad today for more information: 919-691-2330.